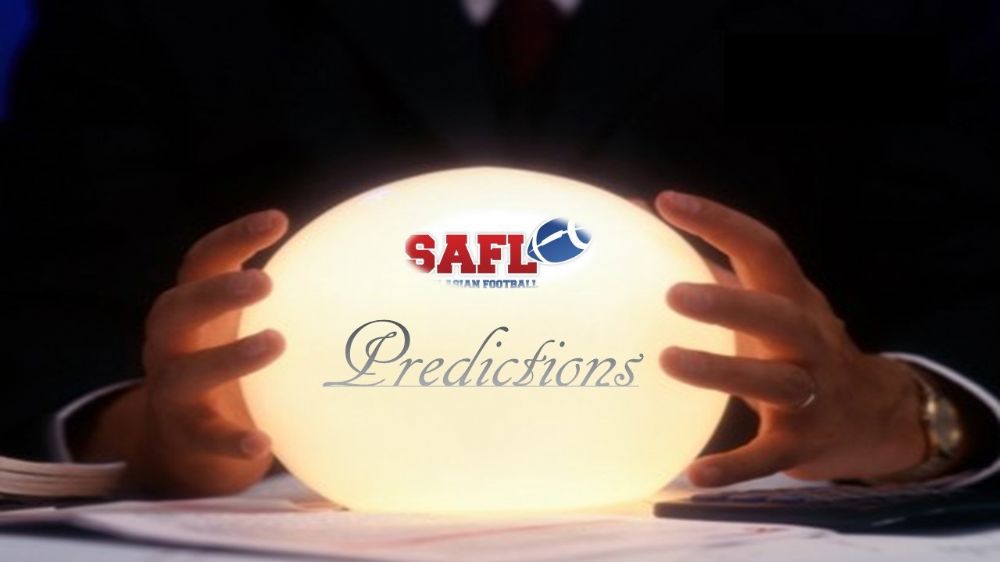 Browns
We start our weekly predictions with the 2018 SAFL Champs – The Browns!! The well-oiled machine continues to roll and they are now seeking their 4th chip?? 5th?? We lost count! The Browns currently constructed are yet AGAIN, the favorites to win it all. They've added Ricky, another solid player to their roster and their core group of players are returning. Ofcourse Shu and Nafi will still be the team's most important players. We all know that Shu brings out Nafi for the big games and rarely plays him much against significantly inferior teams. So we won't see Nafi too much, but we will see him just enough to qualify for the playoffs. One of our favorite things to see is their rivalry with AK. Whether it's in a group chat or on the field, things are always chippy between those teams. The league would love to see these two teams play every week, but that's not going to happen. One of the biggest controversies that surrounded the team was the limitation of player rosters. This was something that ticked off the Browns. Ofcourse, the Browns are always upset about something. But when you're a franchise that has dominated the league, you can complain about anything you want whether teams like it or not. Expected record – 9-2
Renegades
This is a brand new team that is lead by Anwar. Yes – you heard it! They're lead by Anwar!! This was one of the biggest shockers in SAFL off-season history. The Savages have lost their most important player. Some will say Hashim is their most important player, but we completely disagree. When Hashim attempted to lead the Savages as their QB, the team was barely .500. We really don't know what happened. Was it an ego issue? Was it chemistry? There were instances last year where Hashim and Anwar were clearly arguing on the field and sidelines. Rumors also suggest that Anwar took some guys with him from the Savages. We don't know if the Renegades will be competitive for the first half of the season. Just like any new team that comes into the league, except AK, new teams are guaranteed to go through more downs than ups in the first half of the season. Anwar is a great QB, but does he have enough to compete in this league?? The Savages were not that far off from a championship run. So this move is certainly a shocker and it completely changes the dynamic of the league. Expected record – 5-6
Matchup
Let's just cut to the chase, the Browns are going to win BIG here. The Renegades are a mix of SAFL veterans and new players. It takes A LOT of time for new teams to gel. The Renegades playing the Browns in game 1 is just cruel!! Players to look out for – Anwar. Look for him to come out on fire. We think he has something to prove to the league. Chances of winning – Browns 90%
QB comparison – Believe it or not, Anwar is not that far off from Shu in regards to talent and IQ. They each have similar style offensive schemes and similar arm strength. The main difference is that Shu can win the big one and Anwar can't. However, the same can be said with practically every QB in the league when compared to Shu. Shu is still the best QB. Edge = Browns.
Offense – Browns have a huge edge here. They've finished as a top 3 offense practically every year. Shu's schemes are unlimited and intelligent. He has a play for every defense and every situation. We just don't know enough about the Renegades. Who are their playmakers? Speedsters? Sure-handed receivers? There's too much unknown. Edge = Browns
Defense – Browns utilize their patented zone defense. Although they're prone to giving up a ton of points, they generally rank in the middle of the pack which is good enough. They've added Ricky which will help them on defense. Again, we just don't know what kind of players the Renegades have on defense. If Anwar picked up a few guys from the Savages, then the Renegades should have a decent defense. Edge = Browns
Browns 46  – Renegades 28
Primetime vs Cobra Kai (CK)
Primetime
Another "hybrid" new team has joined the SAFL. This is a mix of the Underdogs and a bunch of new players. There were rumors that the Underdogs would merge with the Thunder, but it never happened. The compelling aspect of this team is that Waqas will not be playing QB. Who is Primetime's new QB? We all know that teams need a respectable QB just to be competitive. How many former Underdog players are on this team? We all know that Rob and co. are no longer with the Underdogs. This team remains the biggest mystery in the league. They just formed a few weeks ago so we're not sure what kind of chemistry this team will have. They've been very quiet during the offseason so we're very interested in seeing what kind of team they're going to field. Waqas and Waleed have been in this league for many years, so their leadership and knowledge will be severely tested in prepping this team for the league. Expected record – 4-7
Cobra Kai
This is another compelling team. If there was ever a team that is severely overhyped, it would be CK. We as prediction specialists have to call out that 1 overhyped team that makes a lot of noise in the offseason on the field and in the chats. If you're going to constantly tell people that you're much better and you'll finish top 4 in the league, then you better do so! When you talk the talk, you better walk the walk. CK has put a HUGE target on their backs and teams will be gunning for them. In other news, CK has added Yash and a few other players. Let's be honest, CK has definitely improved from last season. Yash is a solid QB with good IQ. He has very good knowledge of the game and he should help CK earn at least 4 wins. They also have last year's reception leader – Anthony. Now look…we all love Anthony! He's a chill guy, he's competitive as hell, he's super confident, but let's be fair…most of his catches are off screens/dump-off passes, etc. We can name 30 other receivers that can do this. We don't know if that's due to injury or if that's his game. We'd like to see more out of him. Again, if you talk the talk, you better walk the walk. CK has A LOT to prove this season. They have a TON of pressure on their shoulders. Can they meet their own expectations? Just remember CK, most teams also got better! Expected record – 4-7
Matchup
Rumors are swirling about the Primetime QB. There's a lot of hype surrounding him, but we still don't know who he is and what he's capable of doing. It's one thing for a QB to be excellent in practice and it's another to produce the same results against an SAFL team.
QB matchup
Yash is a solid QB. Many of us have seen him during the scrimmages and he looks promising. Good football IQ, good arm strength and an easy guy to root for. It appears he has plenty of weapons on the team for sustainable success. The Primetime QB is unknown at the moment. Edge = CK
Offense – CK was one of the worst offenses last year, but this is without Yash. They never had consistency from the QB position. Primetime consists of a lot of Underdog players who are young, smart and competitive. Edge = CK
Defense – CK was literally the worst defense last year. They added a few guys that will improve this defense, but we just don't see a significant improvement. They will have t heavily rely on their zone coverage. Primetime's core is heavily reliant on a defensive pedigree. They were an above average defense last year and they have a few playmakers. Edge = Primetime
CK 32 – Primetime 28
Bandits vs Thunder
Bandits
The Bandits made one of the most impressive runs we've ever seen last year. The team was dead in the water mid-season and then they went on an incredible run where they almost upset AK in the playoffs. They're loaded with talent in all positions. They're basically bringing back the same group of guys with a few roster additions. Dheeraj is fully healthy and he will seek to have a big season. This team will definitely be a top 5 team this year, barring any severe injury. Jay is a solid QB that is calm under pressure. He will look to build upon a solid 2018 season. This is our sleeper team. We expect the Bandits to be in the semi-finals. Expected record – 8-3
Thunder
Honestly, we're surprised this team is back! We expected this team to merge with the Underdogs or break apart. The unfortunate aspect of this team is the talent they have. They have youth, speed and competiveness. They've been in the league for a while now. You'd think we would see progress by now, but it remains to be seen. At what point will we begin to question IQ and leadership here? They add talent every year, and year in year out, they finish at the bottom of the league. We don't care what the pre-season power rankings say, this team is at the bottom of the league. One great pickup is Jawid. He's the best option they have at QB and they've won a few playoff games with him. We have no idea why they let him go last year. Jawid is a great talent, but is mistake prone. He needs to take his time and incorporate a game plan for him to be successful. Often times he appears to rush his team and make bad throws. Can this team win 4 or 5 games this year? This team will really have to pick it up this season, given the league wide team improvement. At their very best, we think they can win 4…unless they can prove us wrong. Expected record – 4-7
Matchup
There are few guarantees in life. Death, Taxes and Bandits beating Thunder. The Thunder just can never beat this team. If you put these teams in a field together without taking a snap and we bring in a few non-SAFL spectators, they would expect a great game given the talent and athleticism on the field. But after 10 minutes, reality will sink in – one team is smarter, and the other team, eh…not so much.
QB matchup
Jay vs Jawid. The crazy thing here is, Jay used to be a Thunder for a few years!! Why in the world did the Thunder let him go?? Jay has proven to be a solid QB that can play with anyone. He's accurate, smart and has a decent arm. Jawid has a strong arm, with limited league success. If he can stay composed, he can outsling almost any QB in the league. We league Jay in this matchup. The Thunder defense doesn't scare Jay. Edge = Bandits
Offense
The Bandits have more polished weapons and are more organized on offense. They know how to attack a defense and they have a deep team. The Bandits don't really score much, but they are never out of a game. The Thunder offense was one of the worst offenses in the league in 2018. They've added a few nice additions. They're disorganized and predictable on offense. Edge = Bandits
Defense
The Bandits pedigree has always been their defense. They have plenty of playmakers on defense and they can play man or zone. They're a much better man defense team. We expect them to lock up the Thunder receivers for the majority of the game. The Thunder defense is primarily man. If they can stay discipline and play to their stengths, they may be able to give the Bandits some fits. Edge = Bandits
Bandits 38 – Thunder 13
Savages vs AK
Savages
Savages had a big season for all the wrong reasons. They lost their most important player in Anwar. Didn't we see this before? Didn't we see the Savages lead by Hashim as QB and barely make the playoffs?? Didn't they had a QB during mid-season a few years ago that helped them get over the .500 mark? This team struggled to any games a few years ago with Hashim as QB. When he QBs, he is no longer a threat as a receiver. He may be effective as a defender, but when you're asking him to come back or carry a team offensively, his mindset will be focused on the QB position. Remember the saying…football is mostly mental than physical? We're not sure what happened that forced the Anwar and Hashim split. They were very close to making a significant playoff run. They were literally a player or two away from making that championship leap. We aren't knocking Hashim. He's a heck of a football player, but we've seen this too many times and it has not produced positive results. The Savages also lost Lutalo. Ouch….the Savages have had the worst off-season by far. This team is not a top 5 team. Expected record – 5-6
AK
These guys are by far the quietest team during the off season. No one really knows what's going on. They've lost back to back championship games to their rivals the Browns. We just haven't heard a peep from them. They're by far the 2nd best team in the league. They have insane talent and speed all over the field. Their main problem – the browns and lack of creativity on offense. They should also take the time to learn zone defense. They need to mix it up a little. This team is so close to a 2nd championship. They really don't need to add additional talent. They just need to revamp the play calling and mix it up on defense. We expect this team to be top 2. Expected record – 10-1
Matchup
AK is going to come out and absolutely attempt to obliterate the Savages. They've had to listen to a lot of smack during the off season about the Browns. To their credit, they've stayed off the chats completely. I think that's a smart strategy. They should let out their frustrations out on the field. The Savages have lost 2 key players in Anwar and Lutalo. We just don't see how the Savages can hang with AK. AK is the favorite to play in the championship game again, while the Savages appear to be retooling.
QB Matchup
Hashim vs Sims – this comparison is not even close. Hashim doesn't have the greatest record as a QB, while Sims may statistically be the best SAFL QB of all time. Edge = Sims
Offense
With the subtraction of Anwar, Hashim will now be forced to play QB. This will diminish the Savages offense. Who is their playmaker? Sims has weapons all over the field. AK is the most talented team in the league hands down with the most explosive offense we've ever seen. Edge = AK
Defense
AK has a smothering man defense that's lead the league in points allowed for a few years. Savages have always had a top 5 defense. It remains to be seen what additional players they've added to support their strong defense. Edge = AK
AK 45 – Savages 19
Gators vs Elites
Gators
The Gators are coming off a very impressive season! This is practically a 7 man team with a very good QB and solid defensive leadership. They haven't been able to go deep in the playoffs due to their lack of depth, but they have smart and talented players. We don't really know what to expect from Ramy and co. This team is another enigma. Rumor is Ritchie is no longer the QB. If this is indeed true, then who will be his replacement? The Gators have also had their share of bad blood with the league. Some have called them out on dirty and cheap hits. Ofcourse these are just allegations, but the Gators are extremely competitive in every game. It's very hard to predict where this team will be since there's a huge unknown factor with them. We think they'll be above average this year. Expected record – 6-5
Elites
Here's yet another chatty team. Again, as previously mentioned, if you're gonna talk the talk you better walk the walk. Have they made great additions? Yes – absolutely. They've added Rob Jones and DJ. That immediately improves their defense. The burning question is- who's their QB?? Last year we saw Anas as a decent QB. It appears this year they have a new QB in place. Speaking of Anas, he should be a Bandit due to the number of attempted poaches. He has literally attempted to recruit every good player. We gotta give it to him, he successfully recruited Rob and DJ. We would have to say that they've probably had the best off season. They finished 4-7 last year. Can they build this season and win a few more games? I think it's gonna be very difficult for this team to win more than 5 games this year. We're not sure why our Power ranking buddies have them listed so high. Yes they're talented, but the QB situation is a mystery and they tend to drop a lot of passes. Expected record – 5-6
Matchup
The Elites are somewhat overhyped and they have a lot to prove. They need to win more than 4 games and they need to appease Rob and DJ. If this team is off to a slow start, there could be a lot of tension brewing. This team has a ton of talent and needs a good QB to take them to the promise land. The Gators are a complete enigma and we have no idea who will be on the field. This is a tough game to call. At the moment, we have to take the Elites.
QB matchup
We aren't sure who the QBs are so we will have to look at the weapons. Elites have better playmakers that will make a QBs life easy. Slight edge – Elites
Offense
Elites have more explosive players and have good chemistry. They finished at the bottom half of the league in scoring while the Gators were one of the higher scoring teams. Elites offense should be more dynamic. Edge = Elites
Defense
This will be a good defensive matchup. Both teams should have good defenses. The additions of Rob and DJ will solidify the back end of the defense. The Gators were actually ranked 2nd last year in defense. We have to favor the Gators. Edge = Gators
Elites 26 – Gators 19